How to make an afk channel on Discord
22 December 20222 min read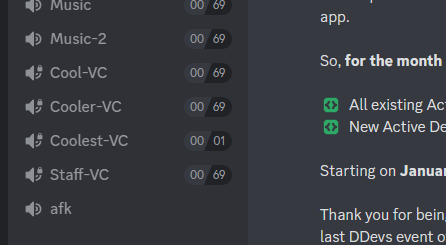 Creating an AFK channel on Discord is relatively easy and helps users by automatically muting them and moving them to a specified channel when they become idle.
What is a Discord AFK channel
AFK channels on Discord are channels for inactive users who have joined a voice channel and become idle, users in this channel are automatically voice muted. These are useful for people who may have fallen asleep and might not want to be woken up by people in the active voice channel.
How to make an AFK channel on Discord
To create an AFK channel on Discord first you should create a new voice channel, name it anything you like but most of the time you'll probably want to just name it AFK. After you have created the channel head over to your server overview page where you should see a few options including a dropdown named Inactive Channel, select your newly created channel here and then set the inactive timeout option, this allows you to set the amount of time it takes to mark a user AFK and move them to the channel. We recommend the 15 minute option for most use cases.
Conclusion:
You should now know how to make AFK channels on Discord with this simple guide, go ahead and make an AFK channel in your Discord server!
Emoji.gg Community
Interested in all things Emojis, Discord and Slack? Join our Discord community of over 600,000 users and learn how to grow and improve your presence on Discord.
Join Discord