How to delete a Discord server
21 December 20224 min read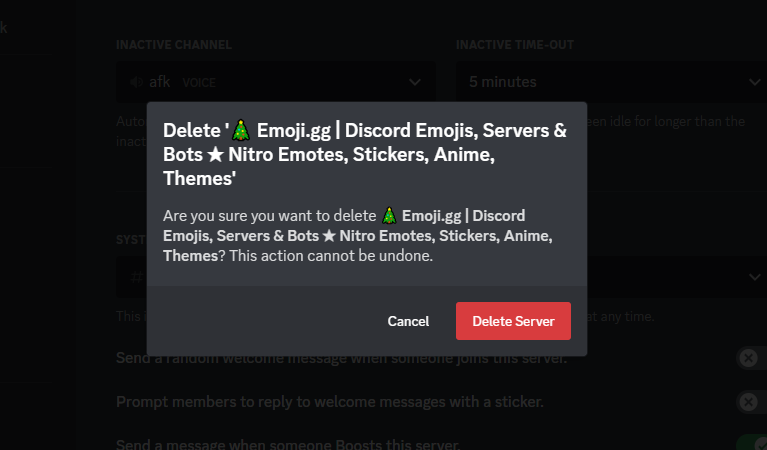 Every so often you might want to delete a Discord Server, whether you made it by mistake or it just isn't for you anymore we will teach you how to delete a Discord Server in this short guide.
How to delete a Discord server on desktop
To delete a Discord server on desktop, you will first want to log in to Discord and navigate to the server you want to delete. Clicking on the server name will bring up a context menu where you will see an option for Server Settings, after clicking this and going to the server settings page you should see an option at the bottom called delete server. Clicking on this link will open a popup which asks you to confirm deletion.
How to delete a Discord server on mobile
To delete a Discord server on mobile, you will need to open the Discord app and click on the server name. An overview of your server should appear with a few options, click on the settings link which has a cog icon. You should then see a list of links including one called overview. Directly at the bottom of the overview page there is a red button labelled delete server.
How to transfer a Discord server
If you dont want to delete your Discord server entirely and transfer it to another user instead, you have that option. To transfer your Discord server to somebody else you will need to go to the members tab under server settings, there you will see a list of members, hovering over a member you will see an icon that looks like three dots. Clicking this icon will bring up a menu with the option to transfer ownership of the server.
Server deletion FAQ
What happens when you delete a discord server?
When you delete a Discord server all messages are deleted, users are kicked and channels are removed.
Who can delete a discord server?
Only the owner of the server can delete it, you should consider leaving the server if you dont want to be there
Can you recover deleted discord servers?
You cannot recover deleted Discord servers so make sure you are certain you want to delete it.
Can you delete a discord server you dont own?
You cannot delete a Discord server if you don't own it.
Does leaving a discord server delete your messages?
Leaving a Discord server does not delete all of your messages, they are still there and anyone can view them. If you don't want people to see your messages anymore it's best to delete them yourself./p>
How to delete all messages from a discord server?
To delete all messages from a Discord server you need to have manage channel permissions, simply deleting all of the channels will also remove all of the messages.
Emoji.gg Community
Interested in all things Emojis, Discord and Slack? Join our Discord community of over 600,000 users and learn how to grow and improve your presence on Discord.
Join Discord